Website Reporting
monthly website statistics
Keep apraised of your internet presence; visitors to your site, what they look at and when. This information is invaluable when making decisions on adapting to market trends and ensuring product competetiveness.
All our clients who benefit from Enhance's internet promotion services receive a monthly website report. This report identifies many key aspects of a website's internet effectiveness.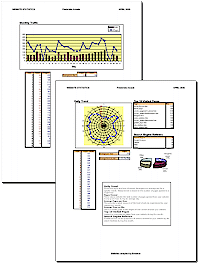 VISITOR ACTIVITY - shows the volume of visitors on a daily and hourly basis. This helps identify the nature of visitors; work versus home users, UK versus international.

TOP PAGES - identifies which website pages are particularly effective for the business and whether action is required to adapt other page content and key phrases.

SEARCH ENGINE REFERRALS - breaks down the proportion of referrals between the major search engines. This helps identify where further effort may be required to increase internet presence.

PAGE DURATION - provides an average time a visitor spends on the website. This gives an indication of how well the page content is retaining visitors. Typically, the higher the duration the more qualified the referrals to the website.
This periodic reporting demonstrates the commitment Enhance has to ensuring the continued growth and success of our clients internet presence.
Related sections:
Search engine optimisation (SEO) - "increase search engine referrals"
Click-ads - "click-ad campaign management"
Froogle - "new price comparrison facility from Google"
Back to internet promotion