Internet Evaluation Report
understand your business internet potential
Enhance provides a free, no-obligation internet evaluation report outlining the possible internet potential of your business should you wish to invest in an internet solution.
The internet evaluation report consists of the following: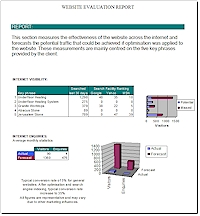 VALUE OF INTERNET PROMOTION
Outlining the objectives of internet promotion and the potential value to the business.
INTERNET FACTFIND
Assesses where the business is now and highlights any possible improvements.
INTERNET REPORT
Provides statistical information on market demand and the potential increase in enquiries if an effective internet presence is achieved.
SUMMARY
Concludes with any recommendations and the possible value of effective internet design and promotion.
This report is designed to provide the client with an unbiased assessment of their current internet presence and provide suggestions on future improvements.
Back to internet promotion